A brief history of RuneScape & OSRS
Fantasy MMORPGs come and go, but the sheer longevity of the RuneScape franchise is a true wonder in the modern gaming world. Released way back in 2001 by Jagex, RuneScape quickly earned a cult following that steadily sprouted over the years of its existence. While modern MMORPGs rely heavily upon stunning visuals and hardware-heavy graphics, RuneScape does the exact opposite by staying as true to its original incarnation as possible. RuenScape and OSRS came with a unique concept of Money Making and Grand Exchage.
As time wore on and new titles and gaming developments came into the fold, it was inevitable that Jagex would infuse their long-standing title with various changes such as quality of life improvements. RuneScape, the game players came to love changed gradually over the years. Enter Old School RuneScape in 2013. With a clamor for the game's original iteration, Jagex indulged their fans by giving them RuneScape as it was originally—without the various updates it had received over the course of its lifetime. Now with the release of OSRS mobile, the number of daily active users shot up from 50-60K to a whopping 100+K, giving everyone a chance to indulge in OSRS money making tactics while harnessing the GE tracker.
What's the difference between RuneScape and OSRS?
RuneScape or OSRS? That is the question that often perplexes fans of this massively popular MMO. Simply put, Old School RuneScape, true to its name, is the OG version of the game before it was augmented and arguably enhanced over the years. While RS continues to get updates, OSRS is perennially stuck in its 2007 version. The debate of which one is better has been raging among fans for some time now. All things considered, it really just boils down to your personal preference. Do you prefer the latest version with all the quality of life improvements or do you prefer the old school approach so you can soak up the nostalgia and enjoy the game as it was originally?
OSRS Money Making explained
Over the years, various methods of farming money in OSRS have sprouted. Depending on the player's unique style, one may be more profitable and preferable over the other. Playing the hourly profit table in the Grand Exchange is one such method. Since prices fluctuate, you can play it the way a broker would play the stock market. Buy low, sell high. Be warned, though! As prices may not always be full accurate, you always run the risk of losing profit. Then there are recurring methods of making OSRS money such as farming herbs, picking cactus spines, or buying ore. Continuously doing such methods, while grinding, can be highly-profitable endeavors.
Still, farming for significant amounts of OSRS money entails having to exert effort and spend time. Should you not have the luxury of either, then there are other ways to go about it, such as buying it from online marketplaces.
How does F2P Money Making work in OSRS?
It's a given that paid members will have more chances for OSRS money making opportunities. But that doesn't mean you can't earn serious money if you're on free-to-play only. With the money, you can work towards upgrading for better armor, weapons, skills, or a getting bond. A solid example would be cows as their three drops can make a total loot of up to 250 coins per cow. You should also consider imps since you can earn a lot from their bead drops and talismans.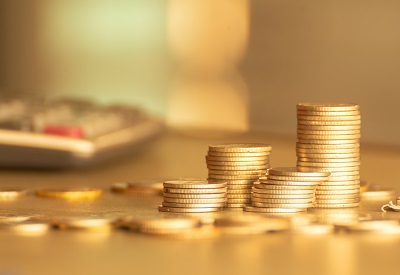 Other notable OSRS money making schemes include:
1) Shop selling – buying items in bulk and selling in specialized stores
2) Tanning cowhide – you can either buy them from the Grand Exchange (make sure to check the GE tracker) or harvest them by yourself
3) Making iron bars – you can make about 80K/hour
4) Crafting – Jewelries are profitable and you can make the most out of sapphire rings in F2P
What are the OSRS Grand Exchange and the GE tracker
The Grand Exchange is the main hub of commerce in OSRS and its prices are dependent upon what the sellers decide. Most of the time, they're influenced by what the demand for certain items are, as well as how difficult they are to obtain. It should already go without saying that the ones that require plenty of preparation are the priciest. Of course, sellers can also choose not to take notice of these factors and decide on the price regardless. However, following the demands of the player base still works best. With the GE tracker, you can stay on top of your trading prospects because you can access it to check out current item prices, their approximate offer prices, how much you might be able to sell them, and how much potential profit you could make in your OSRS Money Making endeavors.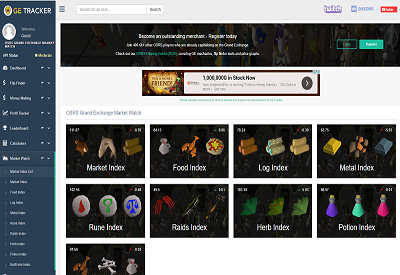 List of selected OSRS Grand Exchange – GE trackers
Keeping tabs of market changes can help you make good decisions—whether buying or selling OSRS & RuneScape gold. There are lots of tools out there that can help you out when using the Grand Exchange. Here are some examples:
Keep in mind that there are many other sites out there. However, these ones are the most popular and most accessible.
OSRS Grand Exchange prices
Grand Exchange Prices are dependent upon what the sellers decide. Most of the time, they're influenced by what the demand for certain items are, as well as how difficult they are to obtain. It should already go without saying that the ones that require plenty of preparation are the priciest. Of course, sellers can also choose not to take notice of these factors and decide on the price regardless. However, following the demands of the player base still works best.
What is OSRS gold and RuneScape gold?
RuneScape gold & OSRS gold are the primary forms of currency in their respective games. Through them, players can purchase handy weapons, gear and items from the RS store, the General Exchange, or from other players in Runescape & OSRS.
While the most basic way of acquiring either form of currency is through the completion of quests, skilling, defeating other players, and other such forms of in-game activities, you may also get them in bulk via online purchases! Sometime money making happens in this way as well, in OSRS. Gamer mine OSRS gold and then sell it for real money. There is an abundance of RuneScape gold selling sites that cater to both buying & selling of OSRS & RuneScape gold. All you need to do is select from the best ones to buy from and you'll save time, effort, and even money!
How do you make money by selling or buying OSRS and RS gold?
When on the market for OSRS or RuneScape gold, finding the best deal possible is always the top priority. But how exactly do you define the "best deal"? Is it the cheapest? Is it the fastest? More than that, you also need to consider the safety of potential transactions. How do you know which sites are fishy and which ones are safe? All these things must be taken into account.
So the question is this: How exactly do you determine which the best RuneScape gold site is? Well, that's what we're here for! By making a comprehensive compendium of trusted RuneScape and OSRS gold sellers filled with in-depth reviews and detailed site analyses, you can weed out the fishy sites and identify which site is the best place to buy RuneScape gold.
If you are in quest of OSRS Money Making, then you should read our reviews. Here at only4RS, we go through the tedious task of sifting through all the sites that have RuneScape gold sellers so you won't have to. By bookmarking our page, you'll be privy to all the cheapest, fastest, and safest deals for OSRS & RuneScape gold!
Which is the best OSRS Gold Website?
Well, while searching on Google, you will find many websites which supports buying or selling Runescape or OSRS Gold, items trade, accounts trade and provide powerleveling services. We made a detailed analysis of these websites so that it is easier for you to determine. You can read detailed reviews for each of them on our website. Following is our list of best websites for osrs gold:
Can buying RuneScape gold get you banned?
If you're careless, yes! There is a risk. The bottom line is that it depends on your choice of seller. Buying RuneScape gold from just about anyone on the internet (ergo, shady sites) is like living on the edge as you have no way of telling if the gold was earned or farmed legitimately—until you get banned. There are a lot of sketchy sellers out there. Make it a point to nit-pick and transact only with reputable sources. Luckily, with our abundant experience in money making in osrs / runescape and hands on with GE trackers, we're here to weed out the bad ones so you're left with only the most reliable sellers in the market!
Is selling RuneScape gold illegal? Are RuneScape gold selling sites illegal?
It all goes back to the seller. RuneScape gold earned through suspicious means can get you landed in hot water—even if you only purchased them. For instance, RuneScape gold sellers with bot-farmed gold or gold earned through stolen credit cards are red flags. Trading with sellers who have previously had flagged IP addresses is also a big no-no! By exercising due diligence and buying through trustworthy sources, you steer clear of trouble.
End Tips:
1) Read our in-depth guides for Money Making in RuneScape and OSRS and OSRS Gold Mining.
2) If you want to know more about OSRS Grand Exchange and GE Tracker, then you must read our in-depth guide.
3) Get some Jewelry in RuneScape
4) If you want to sell or buy osrs gold to make money then you can look our indepth reviews for each of these top sellers.
Good luck in your OSRS, RuneScape journey. If you have any questions or feedback about this site then feel free to reach us out on this email address: [email protected]