OSRS gold selling sites are a-plenty. Just do a quick google search and you'll be neck-deep in choices—so much so that you may suffer from a severe bout of option paralysis. But with that being said, not all sites that sell OSRS gold are created equal. Where many suffer from mediocrity, a few ones are clearly ahead of the curve. Case in point: Eldorado and PlayerAuctions. These two are clearly in the upper echelon. While the former is relatively new to the scene, the latter is a seasoned veteran with a solid community. But make no mistake about it; both of them are great in their own right.
To get the most bang for your buck, you'll naturally want to pick the better site to get your OSRS gold fix. So, you might ask which is better. Allow us to stop you right now. We're not going to allow you to settle for anything less than the BEST. We're going to settle the question of which is the best OSRS gold site. No more second-guessing. No more settling. You deserve the best OSRS gold source, so we'll give it to you.
Strap yourselves in because we're going to nit-pick the various aspects of both sites!
Price
Ah, pricing! Of course you'll want to get the most mileage out of your cash. As far as affordability goes, we've given Eldorado a somewhat lackluster 2.5 out of a possible 5 stars. On the other hand, PlayerAuctions seems to have quite a bit of an edge since their offers are generally budget-friendly. We gave them 4.5 out of 5 stars.
Service
In terms of the quality of service that they provide, it's more of a neck and neck thing even though PlayerAuctions still edges out Eldorado—albeit only slightly. Eldorado has a dedicated 24/7 live support. However, the huge user base that PlayerAuctions has is a surefire sign that their users are happy with their services.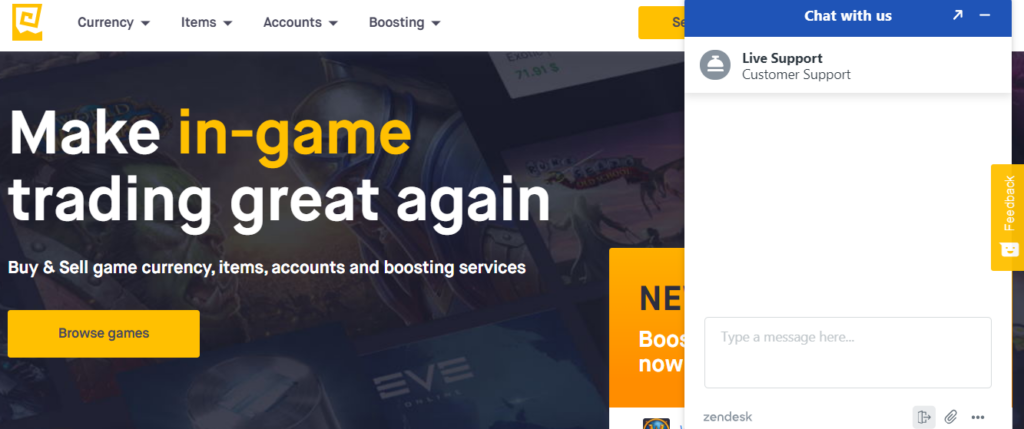 Eldorado's chat support is available 24/7 for quick inquiries.
Another difference is about game tools. PlayerAuctions has currency market price tracker tools and account value calculator tools for almost all of the games listed. It helps buyers to purchase at the right price and sellers to set optimum price.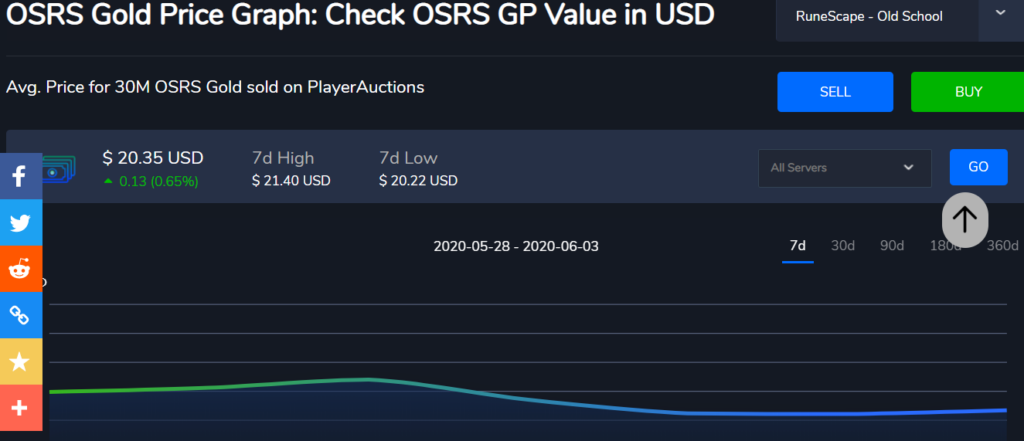 PlayerAuctions provides nifty features such as the Market Tracker to help their patrons gauge their pricing options.
Quick Buy
It's in the quick buy feature that Eldorado manages to one-up PlayerAuctions as buying OSRS gold from them is as straightforward as can be. Though we'd be remiss if we didn't point out that much of the delay coming from PlayerAuctions' neck of the woods is brought about by the extra layers of security they have for the sake of their customers. When you think about it, possible delays are acceptable as long as your money's safe.
Ease of Use
PlayerAuctions and Eldorado both are user friendly. It is said that for sellers, Eldorado is easier; as they don't ask as many details as their competitor. That's why it is generally easier to set up trades on Eldorado as compared to PlayerAuctions. However, once you set things up at PlayerAuctions, it's generally smooth sailing. Many a PlayerAuctions review that we've come across seem to agree with this point.
The Similarities
Both Eldorado and PlayerAuctions have a solid reputation in the gaming community. They cater to the same clientele and are both noteworthy in their drive to be the best platform for game asset trading.
The Key Differences
While PlayerAuctions has been operating since 1999, Eldorado has only been in operation for about half the time as its competitor. In terms of games that they cater to, the choices in Eldorado seem to be quite limited (around 20+) whereas PlayerAuctions has a wide plethora of titles to choose from (230+).
The Bottom Line
Through the years, PlayerAuctions has built an undeniable rapport with their client base. That rapport is based on trust that has been earned through consistency in their level of service. Despite netting a less-than-stellar rating of 3.5 on TrustPilot, they have built a reputation of accessibility, affordability, and dependability for their brand. However, we'd be remiss if we didn't point out that this reputation is something they have to constantly work on if they are to remain at the top—especially with great up-and-comers like Eldorado biting at their heels.
Another point that works in PlayerAuctions' favor is the fact that they provide top-notch security with their patented PlayerGuardian Shield. On top of that, customers are provided with an option to buy insurance. Eldorado, on the other hand, provides a secure payment guarantee via TradeShield. PlayerAuctions goes the extra mile by providing secure payments, ensuring smooth transactions, and guaranteeing deliveries. Sellers only get their money once buyers confirm deliveries.
When all is said and done, the bottom line is that you need to experience both sites to determine which works better for you. What's important to you? What are your priorities? Only you can answer these; we can only present the facts we've uncovered. Hopefully, we've put you on the right trajectory. But if you ask us which we would choose, it's pretty obvious that PlayerAuctions would be our go-to site as the benefits they give far outweigh that of their closest competitor.